By Andrew Weston, RPO Solutions Director, PeopleScout EMEA
PeopleScout recently hosted a webinar with Personnel Today featuring a panel of talent leaders across the financial services, energy and retail sectors. These experts from Centrica, The White Company, Renewco and Newcastle Strategic Solutions discussed their challenges and approaches to hiring and engaging a customer-focused workforce in today's labour market.
Organisations like these are competing on customer experience. A consumer survey from PwC shows that the four most important factors for an exceptional customer experience are speed, convenience, knowledgeable help and friendly service. The key to excelling in these factors is happy, engaged employees. Organisations with highly engaged workforces are 21% more productive, outperform competitors by 147% and have customer loyalty rates 233% higher than companies without engaged employees.
I joined our panel to discuss the current tight labour market and trends that are impacting talent acquisition. Here's what I learned:
Trend 1: Hiring for Potential
As customer expectations have changed, so have the skills needed for top customer service talent. When we polled our audience during the session, they indicated that soft skills related to emotional intelligence are highly sought after.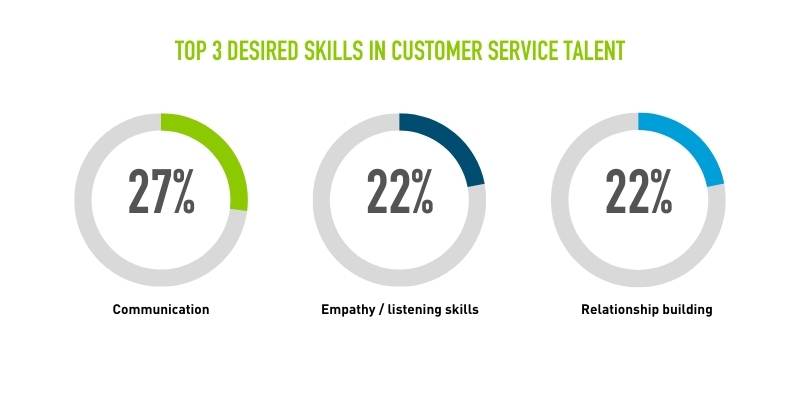 Several of the experts on our panel have implemented a culture-centric approach for attracting talent. Instead of assessing candidates based on previous work experience, candidates are assessed based on whether they possess the right skills, values and behaviours to be successful in the role. Interviews and assessments are being reimagined to be more focused on soft skills and higher purpose as talent leaders and hiring managers are embracing candidates coming from outside of their industry.
Trend 2: Expanding Talent Pools
With job openings outnumbering job seekers, organisations across sectors find themselves getting creative as they try to expand their talent pool. For some, this means looking into new talent audiences, like underrepresented group or military veterans, and putting programs in place such as apprenticeships to future-proof their talent pipeline.
For many companies, the growth of remote work means that they're looking outside of their physical contact centre locations to candidates across the country and even expanding to new countries. This requires an adjustment to your talent acquisition strategy to ensure your employer brand and recruitment processes are ready to handle dispersed talent.
Trend 3: Adapting to Remote Work
Remote work is impacting more than just where talent comes from, it also affects how organisations onboard and engage their staff. Especially in our current cost-of-living crisis, customer service representatives are fielding queries from vulnerable customers which can be especially draining. Talent leaders are getting creative in how they connect with staff to ensure a sense of belonging and wellness—regardless of where the employee is working.
Some contact centres have even adjusted their operational structure to work in "pods" which ensures agents—both in the office and remote—get the support they need to solve customer queries efficiently. Before, managers and team leads could walk around the contact centre floor and see when agents looked stressed. Remote working has made it harder to monitor employee wellbeing. Customer-focused leaders are investing in employee wellbeing, from training managers to catch the signs of burnout to offering wellbeing support programs.
These are just a few of the labour market trends that are impacting how companies hire and engage talent. Clearly, organisations are finding creative and bold ways to invest in their employees to maintain a resilient and customer-focused workforce. To hear more from our panel of experts, watch the replay on-demand.