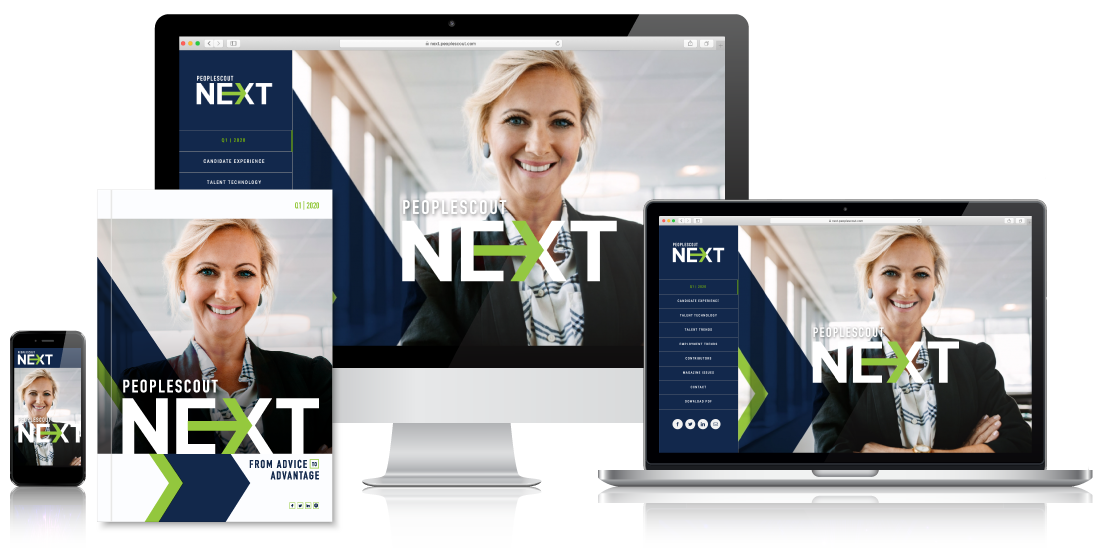 Your guide to what's next in talent acquisition
Cultural, technological and societal evolutions shifted the ways employers and candidates perceive talent acquisition and the workplace as a whole. As we enter a new decade, PeopleScout looks forward to bringing you the latest trends, insights and technologies that will shape 2020 and beyond.
Welcome to the Q1 2020 edition of PeopleScout NEXT, a resource designed to provide actionable insights into the trends and technologies propelling talent acquisition and workforce management into the future.
In this issue of PeopleScout NEXT, you will find:
An interview with Kathryn Minshew, the CEO & Founder of The Muse and the author of "The New Rules of Work," a Wall Street Journal national bestseller
A look inside PeopleScout's Resourcing 2025 event in London where keynote speaker Dr. Rand Hindi and attendees explored the future of talent acquisition and how to strike the right balance between human expertise and technology
An in-depth look at our employer branding work for the AA, which won the 2019 Recruitment Marketing Award for Best Employer Brand
Talking Talent Leadership Profiles that explore the future of talent with two of our key leaders: Executive Leader and Managing Director of the Americas, Jennifer Mattocks, and UK Managing Director & Head of EMEA Operational Delivery, Jon Porter