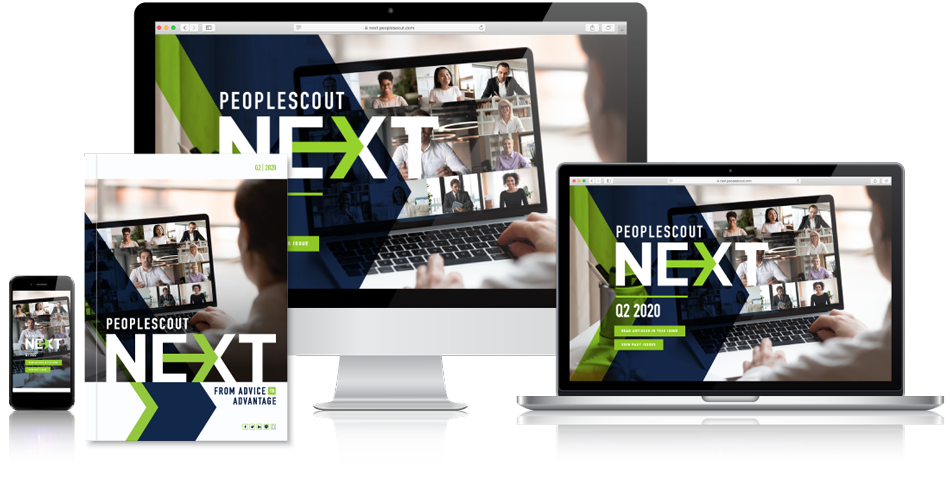 Your guide to what's next in talent acquisition
As organizations around the globe confront the challenges presented by the coronavirus (COVID-19) outbreak, even the most seasoned talent leaders find themselves in uncharted territory. That's why we've dedicated our special Q2 2020 digital edition of PeopleScout NEXT to topics related to COVID-19.In this issue, we focus on three key concepts: Now: How to Be There for Employees During Times of Crisis; The New Normal: Adapting to a New Way of Working; and The Next Normal: Looking Ahead.

You'll hear from PeopleScout Interim President Chip Holmes, along with several of our internal leaders and experts on key topics like transitioning to a virtual hiring solution, keeping employees engaged during a crisis and the importance of business continuity planning.
In this issue of PeopleScout NEXT, you will find:
How to lead your team through the current crisis from PeopleScout Interim President, Chip Holmes
Tips for managing and engaging your remote workforce
Keeping candidates and employees safe with a virtual talent solution
How texting is revolutionizing recruiting and candidate experience
Advice on using social media to enhance your employer brand
The future outlook for talent acquisition and more!