By Andrew Weston, RPO Solution Director, PeopleScout EMEA
In our world of e-commerce and online banking, consumers want slick digital experiences. But they still want the human touch when they run into a problem. Despite the growth of digital channels, excellent customer service is still a must-have in a business landscape where companies compete on customer experience. High-volume hiring in the contact centre has never been more important or more challenging.
Customer queries are more complex and high-value, and contact centre agents are now expected to not only answer calls, but interact with customers through chats, emails and social media. Contact centres need highly-skilled talent who are comfortable working in a myriad of technology platforms. Customer service representatives (CSRs) must also exhibit strong soft skills like listening and empathy—especially as consumers are experiencing more financial hardships and mental health struggles post-pandemic.
Indeed, 84% of contact centre leaders—whether part of a BPO or an internal contact centre—believe the pandemic permanently elevated the importance of the contact centre for their business. But, it's hard to deliver against your service levels when you're struggling to hire or when you're losing staff amidst the Great Resignation. Since 2019, the number of vacancies has increased, while the number of applicants per opening has dropped by 50%.

So, how can a contact centre director and talent acquisition leader team up to tackle today's tough landscape? Here are three top recruitment challenges in the contact centre and tips for overcoming them.
1. Use Your Employer Brand to Attract the Right Kind of Talent
ContactBabel's UK Contact Centre Decision Maker's Guide states that contact centre attrition reached 23% in 2022, with 1 in 6 operations experiencing annual attrition of over 30%. This results in UK contact centres making over 212,000 hires annually. With turnover like this, how to make high-volume hiring more effective is always on the minds of contact centre directors.
As consumer behaviour has changed, a different set of skills is needed in customer service. Contact centre agents need to exercise problem solving and analytical skills while also displaying empathy to customers who may be upset or emotional. Agents who lack these skills are more likely to struggle to resolve customer issues and to suffer from increased stress levels.
By honing your employer value proposition and attraction messaging, you can stand out amongst your competition but also zero in the characteristics you need for your contact centre. By shifting your mindset from focusing on getting the most applications, or even those with customer service experience, to getting applications with the right profile, you can reduce attrition by increase the likelihood of your new hires being successful.
Case Study: Finding Candidates with Problem Solving Skills
We helped Direct Line, a British insurance provider, improve their recruitment outcomes in the contact centre through employer branding and recruitment marketing. We found their ideal candidate profile was someone with strong analytical skills and who could proactively problem solve—rather than those with past experience in customer service.
We then expanded our search efforts, looking for candidates who would have honed these skills in non-customer service roles who would be interested in making a career change. Not only did this open the doors for Direct Line to access a new pool of talent, but it also helped to increase the quality of their hires and reduce attrition.
2. Rethink Your Assessment Centre to Reduce Drop-Off Rate
With growing complexity in customer service, organisations need contact centre agents with strong listening skills and written communication skills (for chat, email and social media enquiries) as well as the ability to self-manage and multitask. Leveraging candidate assessment tools to find candidates with the right combination of skills and behaviours is imperative to the success of your contact centre.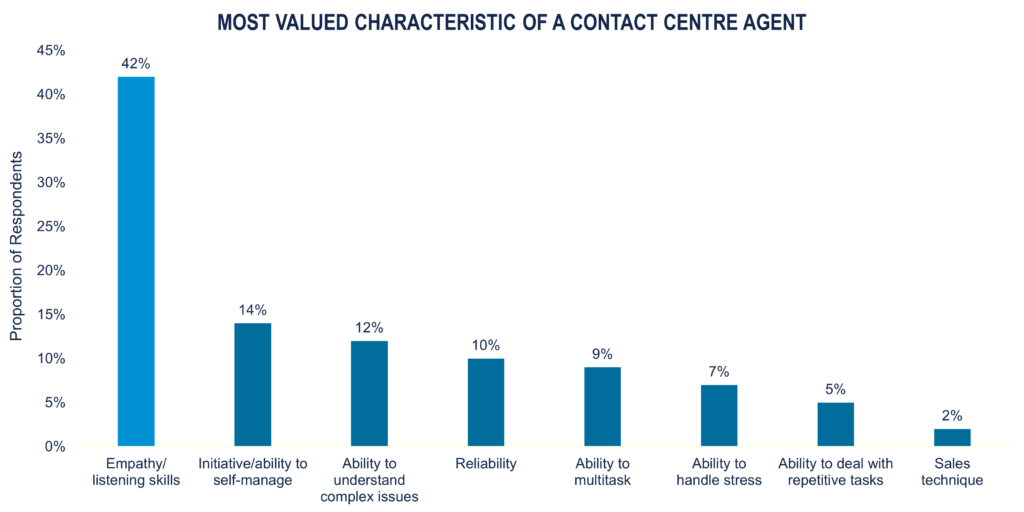 Case Study: Moving the Assessment Stage Forward
One of our longest standing clients, tasked us with high-volume recruitment process outsourcing (RPO) for their financial services customer contact centres. The bank needed to recruit more staff to meet their service levels and create a great experience for their customers. We designed the customer contact recruitment process from scratch, including a recruitment marketing campaign.
As part of this new process, we advised the bank to introduce an online test immediately after the candidate applied using an automated email. This caught them while the application was still front of mind and also ensured that only best-fit candidates progressed. This meant that hiring managers were committing their time to top talent and helped to reduce the overall time to hire. As a result of identifying high quality candidates sooner, we were able to reduce the attrition rate to just 11%, well below the industry average.
More Assessment Centre Tips to Reduce Drop-Off
Here are some more assessment centre tips:
Try introducing assessment tasks earlier in the process or combining assessment stages. This helps increase hiring speed and keep candidates engaged.
Rather than traditional multiple-choice tests, try a role play scenario or an interactive experience that gives the candidates a real-life feel of what their day-to-day job will look like. The benefits are two-fold—you get a better idea of how candidates will perform in the role, and they get a better idea of what to expect before they accept the offer.
Ensure candidates are prepared for the assessment centre by offering webinars, instruction videos and even practices tests. This helps to eliminate nervousness and boost confidence amongst candidates—reducing candidate drop-off before the assessment centre phase.
Learn more about our whole-person model for assessments and we leverage it for evaluating customer service reps for the contact and other high-volume hiring situations.
3. Boost Your Communications to Eliminate Ghosting
Newly hired customer service reps are increasingly 'ghosting' their call centre jobs—not showing up for day one with no reason given and often no communication from the candidate at all. According to an Indeed survey on ghosting in the workplace, 22% of candidates say they have accepted a job offer but didn't show up for the first day of work.
Following the tips above on finding the ideal candidate profile and assessing for the right skills to start with, will help reduce ghosting on day one. In addition, you can also work to speed up the recruitment process and improve communications to keep candidates engaged after offer acceptance.
Speeding Up the Recruitment Process
With so many contact centres vying for customer service talent, employer response time is crucial as you want to beat the by being the first to move the candidate through the recruitment process. About a quarter of candidates state the reason for their ghosting was because the hiring process was too long or too slow. So, take a look at your recruitment process. Are there any steps you could eliminate or combine? Are there ways you could reduce the time between steps?
If it's feasible for your organisation, you might consider moving to same-day offers, even if they're contingent upon reference verification, background checks or drug testing. Also, moving the start date up will reduce the likelihood of a competing offer turning your candidate's head. Waiting for your next training class could be risky, so think about running smaller training classes more frequently to accelerate hiring.
Staying Connected with Regular Communication
Communication is also a key part of combatting ghosting during the crucial period offer and onboarding. Staying in touch with candidates is imperative to keep them interested. If you ghost your brand-new hire by forgetting to check in, they're more likely to ghost you in turn. The same Indeed study found that 77% of jobseekers saying they've been ghosted by an employer.
Assessing the touchpoints between your organisation and the offer holder is an important way for employers to ensure they keep the lines of communication open and increase engagement with candidates. Are you using your CRM to the fullest? Investing in creating content that showcases your employer value proposition (EVP) and sending it out regularly to your candidates via engaging emails will ensure they are reminded regularly of the value you offer—whether through benefits, flexibility, growth opportunities, diversity and inclusion initiatives and more.
Personal touchpoints are another way to stay connected. Check-in emails from the recruiter or even messages of congratulations from the hiring manager will help candidates feel valued and special. You might consider asking existing employees to act as an ambassador and share some onboarding materials with more information about your organisation, your culture and values or your employee resource groups (ERGs) so they start feeling like a part of the team.
These small gestures can help your candidate feel connected to the organisation before they start—and could end up being what keeps them from changing their mind when they receive a competing offer.
RPO for the Contact Centre
Facing a recruitment landscape in which you need high-volume hiring to support your contact centre operations? Check out our latest webinar in conjunction with Personnel Today, featuring CCMA, in which we discussed how to maintain speed and agility in high-volume hiring whilst keeping the quality of hire. Watch it on-demand!