In this time of rapid transformation and high competition for talent, employers face the challenge of evolving their talent generation strategies to stay ahead. For years, employers focused on attracting as many candidates as possible with the hypothesis that generating more applications was the best strategy to yield better quality hires. That approach to talent attraction and the metrics used to measure success are changing.
The old goal: Attract as many candidates as possible.
The new goal: Attract the strongest candidates who are the best motivational fit for your organisation.
In this article, we cover the changing landscape of candidate attraction and why employers should develop a new, data-informed way of looking at job postings. We also present some specific strategies employers can put in place now and explore the benefits of these strategies.
Change is Not Optional
Many organisations remain stuck with outdated candidate generation strategies. Job titles and descriptions can go years without being updated to reflect the reality of the position or the ways that candidates look for jobs. Long, expensive contracts with specific job boards are common, even though the return on investment may be decreasing. There are several reasons why the old way is no longer working.
1. Employers look at the wrong metrics.
Many employers assume that a large number of views, clicks and even applications indicate an effective strategy, even when those numbers don't translate to strong hires. At the same time, candidates are left frustrated by applying to jobs that are different than advertised and then facing rejection because they don't align with the true requirements of the position or with an offer or a job that isn't a good fit.
If a job posting yields too many unqualified candidates, it creates the risk of harming an organisation's employer brand. This is because when there are too many unqualified candidates, there is the risk of poor communication. Those candidates could become frustrated with a lack of communication and form a negative opinion of the organisation which they could share with their own networks.
Employers need to modernise their candidate generation strategies and metrics to keep up with changing candidate expectations and advancements in workplace technology.
2. The process is expensive.
The practice of attracting large numbers of applicants is expensive. Employers pay to attract and process candidates who aren't good fits. At one UK organisation, we found that a dismissal at the CV review stage cost £1.92. This organisation hired 6,000 employees for every 67,000 applicants. This means the cost of just the first stage was £117,000.00. The process of dispositioning an applicant after an interview is even more expensive.
3. Job postings aren't optimised for the changing landscape.
The changing role of job boards is also disrupting the traditional process. The rollout of Google Jobs, for example, has made it easier for candidates to search for job postings the same way they search for everything else on the internet – and candidates have grown to expect this. Because of this, employers need to optimise job postings and use SEO strategies to ensure candidates will see those postings.
Strategies for the Future
Building a Centralised Recruitment Function
By centralising the recruitment function, employers build a team that can adapt more quickly to change and works more efficiently to put new strategies in place. HR leaders find that a centralised function allows all members of the team better insight into the full hiring process and helps them better understand how each step impacts the broader candidate journey.
It is also easier to test new strategies and deploy successful ideas throughout the entire recruitment function. Because there is no need to get the buy-in of other offices or teams, a centralised function can deploy changes quickly.
A centralised recruitment team also helps maintain consistent metrics and employer branding. When multiple teams are accountable for different parts of the process, those teams can start to shift over time to the point where aspects of an employer brand or the metrics used to define success can look different from team to team.
When processes are siloed it makes it more difficult for leaders to get a full view of the recruitment team and maintain consistency throughout the process. When the entire recruitment team is accountable to the same leader, the process remains more consistent.
Benefit: An accountable and synchronised recruitment team that can more effectively share your brand message.
Sharing an Honest Employer Brand
An authentic yet aspirational, unique and dynamic employer brand is key for employers looking to stand out in the competitive talent market. This type of employer brand will speak to candidates who fit with the current company culture but can also be an effective way to keep current employees aligned with shifting organisational priorities.
According to a report by Cornell University, organisations with a strong employer brand experience less turnover, a higher level of employee commitment, more buy-in to the corporate culture and increased engagement.
Successful deployment of an employer brand will include the development of media toolkits, with language, images, videos, social media posts, emails and more than the recruiting team can use to disseminate brand communications. Materials like these can be used to make sure your employer brand consistently comes through in job postings and advertisements.
Benefit: A strong employer brand will generate applicants who understand and fit in with your culture and who are excited to work for you.
Swapping Vanity Metrics for Sanity Metrics
As your goal changes from attracting the most candidates to attracting the right candidates, you need to adjust what metrics you monitor to see if you're achieving your goal.
Vanity metrics can include data like the number of clicks or views you have for a job posting and the number of applications. These metrics don't tell you whether the people who are clicking on your job advertisements or the candidates who are applying are good fits for the position or enthusiastic about working for you.
Sanity metrics are numbers like the ratio of clicks-to-hires or applications-to-hires. Sanity metrics can also include data about the performance and tenure of your new hires. These metrics tell you whether or not the right people are finding and applying to your job postings.
If you are looking at vanity metrics, you cannot tell if you are attracting the strongest talent.
Benefit: A more clear measure of whether you are meeting your goal of attracting the strongest candidates who are enthusiastic about working for you.
Using Data to Inform Decision Making
Data should be central to the candidate attraction process. Your team should consistently ask these four questions and make alterations to your recruitment process based on the answers the data provides.
1. Are you marketing your job properly for the audience you're looking for?
Sanity metrics will tell you if your tailored approach to candidate attraction is working well. The exact ratios will vary from organisation to organisation and position to position, but your goal should be to decrease the ratio of clicks-to-hires and applications-to-hires while increasing performance metrics and tenure numbers on those hires. If you aren't already tracking this information, you should gather historical data on the relevant positions and continue tracking performance and tenure data.
If, for example, you spend a significant amount of time and money reviewing applications from unqualified candidates, you can revise your job copy to reflect the more challenging parts of the job. One of our clients had challenges hiring for a door-to-door salesperson. The job posting gave a rosy view of the position, without mentioning the tougher parts.
This led to a high number of applications, but as candidates moved through the process, many realised they didn't want the position. The cost of processing these applicants was high, as was new hire turnover once candidates started in the role.
By making the job posting more transparent about the challenges, applications decreased by 11 percent, despite a 10 percent increase in the salary for the position. The client saved 305 hours of hiring manager time over a three month period, made the same number of hires as before, spent less on candidate attraction, held fewer phone and face-to-face interviews and new hire turnover in the role dropped significantly.
2. Is your job title optimised for your audience?
Often, job titles at individual organisations are informed by organisational culture and tradition. These can lead to titles that haven't changed in years or new and creative titles, like "digital prophet" or "crayon evangelist." While these titles may function well inside an organisation, they can't attract candidates who search online for positions like "business analyst" or "design director" because those candidates will never find the positions.
Regardless of the job title you use internally, the job title you use in a posting should be informed by data. Tools like Google Trends and Google Keyword Planner can help develop SEO-friendly job titles that will help put your position at the top of search results. Popular job boards also provide click data, and you can perform A/B testing with your recruiting team to determine which job titles bring in the best candidates fastest.
One client was struggling to hire for a position they called "help desk advisor," although the position was customer service related. Data showed that more people in the client's location searched for jobs like "customer service representative."
By changing the job title in the external job posting, the client received the same number of applications in two weeks that it normally received in six to eight weeks. Because of this, the time-to-offer and time-to-fill both decreased, and the client spent less on attracting candidates.
3. Is the most important information in your job posting laid out in the best way for readers?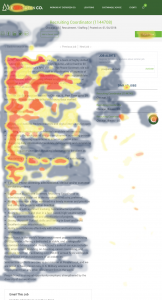 If your marketing and optimisation efforts are successful at bringing job seekers to your posting, you also need to make sure they get the information they need to decide if the position is the right fit and they want to take the step to apply. According to research by The Ladders, job seekers spend an average of 49.7 seconds deciding that a job isn't right for them and 76.7 seconds deciding that it is a good fit. This only provides a short window of time to provide the information you want them to see.
By developing a strong employer brand, marketing the position properly and optimisng your job title, you will be able to provide the type of information the candidate needs to see to decide if your role is the right fit. Your challenge is to make sure they can digest it in less than one minute. The Ladders' study used eye-tracking software to determine that most job seekers follow an "F" shape as they scan job postings.
This means, as you write up and lay out a job posting, you need to put the most important information in the first places a candidate will look. Using headings can also help candidates identify key criteria.
4. Are you using job boards effectively?
The introduction of Google Jobs drastically changed the landscape of job boards. For our UK client base, we are already seeing a decreased return on investment from job boards which has decreased our own spending. To ensure you are spending effectively on job boards, you need to constantly evaluate which boards perform better.
To do this, you need to find out which job boards send an appropriate number of the right candidates. Some boards may send a lot of candidates but very few are qualified. Others may send fewer and fewer candidates altogether. By monitoring this data, you can invest your budget into the right job boards to attract the right candidates. You should also monitor whether the job boards you use integrate with Google Jobs and what impact that will have on your application data because it could vary among different industries.
More benefits of data-driven methods:
Increased candidate quality and decreased turnover because you are attracting candidates who are enthusiastic about the position and your organisation and who understand the responsibilities and requirements of the role.
Decreased time-to-fill and cost-of-vacancy because candidates who aren't a good fit self-select out of the process, so you don't waste money evaluating the wrong people.
Increased ability to attract the candidates of the future because you're speaking to them where they are and in ways they expect as they search for new positions.
Key Takeaways
Rather than attracting as many applicants as possible, employers should focus on decreasing the number of unqualified or uninterested applicants while increasing the number of strong applicants.
Employers should use a data-informed process to guide their candidate attraction strategies.
Employers should consistently evaluate their use of job boards to match the quickly changing job board landscape.