When facing a tight and highly competitive talent market, employers find it even more difficult to hire for hard to fill jobs. What's more, the dearth of highly skilled talent in critical industries can lower an organisation's productivity, which, if left unabated, could have a major effect on the global economy.
According to a Society for Human Resource Management (SHRM) report, vacancies for jobs requiring highly skilled workers or in-demand skills are among the most difficult to fill. The talent acquisition professionals surveyed in the report said the following job categories are most difficult to recruit:

In this article, we'll cover how organisations can identify, source and hire highly skilled talent more effectively.
Creating Candidate Personas for Hard to Fill Jobs
Before you source, recruit and hire highly skilled talent, you must first outline the skills, attributes, experience, and tendencies of your ideal candidate by creating a candidate persona. A candidate persona is a semi-fictional illustration of a candidate who exemplifies what you are looking for in a specific role. An accurate candidate persona will help your talent team tailor its strategies and approach to best suit the talent you are looking to hire. This is especially important when recruiting highly skilled candidates who have diverse and unique requirements, drivers and employment expectations.
Your candidate persona needs to answer key questions. Begin by answering these questions using existing data from your applicant tracking system (ATS) and customer relationship management (CRM) databases on candidates and employees. You can also interview current employees – especially those who align with your ideal candidate – for their feedback. Below is an example of a candidate persona template: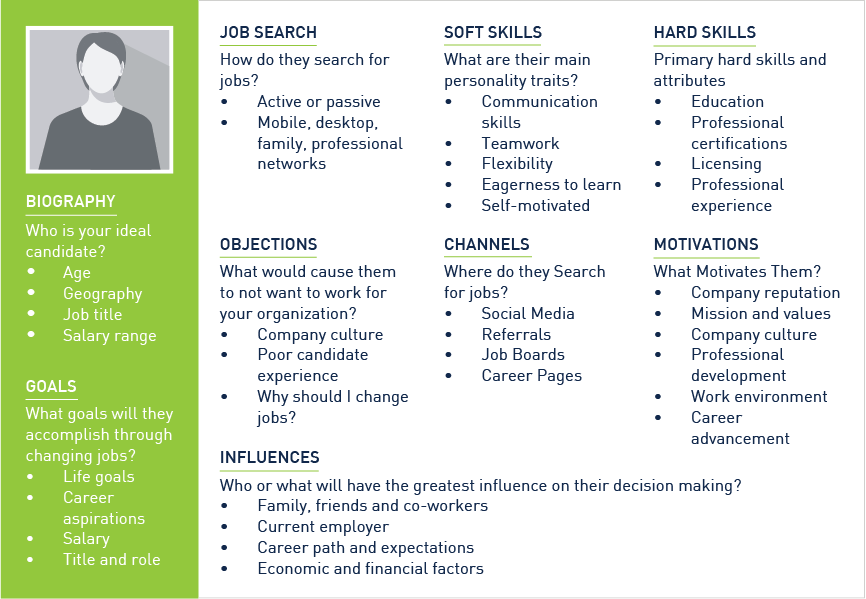 Make sure your personas are representative of actual human beings – rather than a portrait of an overly idealised, fictional candidate. Also, be cautious when creating candidate personas; giving your personas names and pictures to make them seem more realistic and multi-dimensional is great, but it may also lead to bias. Instead, keep personal identifiers to a minimum to avoid discrimination and maximise diversity.
Sourcing Highly Skilled Candidates
Leveraging Social Media
LinkedIn is a favorite social media recruiting tool for talented professionals. However, oversaturation is the predominant reason that many hiring managers claim that recruiting on LinkedIn has become less effective. Despite being inundated with competitors, LinkedIn is still one of the most important tools in a recruiter's toolbox. However, sourcing talent on other social media is also a vital part of a modern recruiting strategy.
Twitter: Use Twitter's advanced search function to hunt for user profiles that use industry-related keywords and hashtags. Then, refine your search based on location and other important criteria. For example, if you're looking to fill a developer position, search Twitter for specific software and developer-related keywords within your organisation's target market. This search can uncover developers in your area with the experience you're looking for.
Facebook: Facebook's targeted search capabilities enable you to find high-quality, skilled workers who align with specific criteria. For example, if you search "copywriters with packaging marketing experience," Facebook will return a result with matching profiles. Reach out to these candidates to see if they would be interested in interviewing with your organisation.
The power in using your social media accounts goes beyond sourcing candidates for hard to fill jobs; you can also showcase your organisation's employer brand and culture to entice and engage talent.
Employee Referrals
To gain a competitive edge, look to your employees. An employee referral programme can help your organisation expand its network with a ready-made talent pool. Employees have contacts with former classmates and co-workers, and their referrals are more likely to be qualified and a good fit with the company culture.
Additionally, consider posting open positions in office areas, announcing openings at company meetings and sharing them in company-wide communications to help employees keep referrals top of mind. Also, regularly remind employees about the rewards for referrals, such as financial compensation or other perks. Even if a referred candidate is not a good fit for a particular position, you can still consider them for different roles, which can help supplement a robust talent pipeline.
Leverage Recruiting Automation & AI Tools to Source Candidates
Innovations in talent technology have transformed every phase of the recruiting process. One phase that has seen enormous change due to technology is candidate sourcing. Candidate sourcing is the most important phase in recruiting highly skilled talent because the talent pool is more constricted.
Today, talent tools powered by artificial intelligence can locate passive candidates for hard to fill jobs much faster and more efficiently than ever before. AI technology crawls the internet to collect and analyse a wide variety of candidate data – from résumés to social media activity. Based on this data, AI-based tools can help make predictions about which candidates will be open to switching jobs, making it easier for recruiters to prioritise those candidates.
Selling Your Hard to Fill Jobs
When it comes time for the interview, you're not just interviewing highly skilled candidates; they're interviewing you, as well. To effectively "sell" your opportunities, outline and communicate the benefits of working for your organisation. Effective communication on the front end can save your company significant time and effort.
Understand What It's Like to Work for Your Organisation
To properly sell the role, make sure that you have an accurate view of your organisation from the perspective of your employees – both current and former. Consider deploying surveys to obtain feedback from current employees and make sure to conduct exit interviews with departing talent. Take the feedback you receive and craft an objective report of your employee experience. When you understand the day-to-day experiences of your current and former employees, you can better sell an accurate and positive depiction of what it's like to work for your organisation.
Understand Your Employer Value Proposition
Your employer value proposition (EVP) is what you are selling to the candidate. Recruiters and hiring managers need to know – and be comfortable articulating – the value proposition of your organisation. In other words, you need to answer the question, "Why would someone want to work for you in this position?" Your employer value proposition includes a range of tangible and intangible benefits of working at your organisation, such as work/life balance, flexibility, culture, values, compensation, and benefits. Know the benefits of working for your company, and make sure that you effectively "sell" it to highly skilled candidates.
For instance, PeopleScout helps a client to maximise its employer brand to attract a healthy pipeline of top talent. The client, which has a global presence in the construction industry, works with PeopleScout to highlight its unique culture to potential employees. During the hiring process, hiring managers communicate the client's mission of minimising environmental impact and maximising sustainability; creating innovative approaches to complex industry problems; and promoting the well-being of its employees.
As an example, the client offers three days of "well-being" PTO that can be taken in addition to the traditional leave offered by the client. These days are seen as necessary for employees working in a physically and mentally taxing industry, and illustrate the client's commitment to the well-being of its staff. What's more, the client also offers multiple flexible work arrangements to increase work-life balance – a prudent, yet uncommon, benefit in the industry. By helping our client weave in its mission, culture, and brand into the recruiting process, the team has been able to establish the company as an employer of choice for highly skilled talent.
Be Careful Not to Oversell
In addition to the perks, it's also important for candidates to have an objective understanding of the challenges that may come with working at your organisation. You don't have to paint an unflattering picture of your hard to fill jobs, but it is important to provide accurate information upfront. Overselling or omitting information will start the employment relationship off on the wrong foot should they accept your offer, and could lead to higher turnover. It won't take a new hire long to figure out that what they were told before they were hired is not the reality of the role. For example, if your role requires irregular or long hours, communicate that to the candidate. This allows the candidate to make a fully informed decision and mitigate the risk of immediate disengagement.
What Candidates Want to Know
Just like you want to know about a candidate's background and experience, highly skilled candidates also want to know what they can expect from employment at your organisation. In particular, during the recruiting process, they may be interested in:
The candidate's potential for growth: Highly skilled candidates want to know how leaping to a new organisation is going to benefit them – especially in relation to the growth and overall well-being of their careers.
The role's potential for growth: Candidates may want to go beyond the position in its current form and discuss what the position could be and how the role ties into the organisation's plans for the future.
Your organisation's potential for growth: Highly skilled candidates want to be part of a winning team, so show them how your organisation is driving success.
Your organisation's culture: Candidates want to know that the position is going to be a good fit, and that includes how they fit into your organisation's culture.
The evolving landscape of talent acquisition requires a more proactive, multi-touch approach to attracting highly skilled talent and converting them into applicants and, ultimately, hires. As the global economy continues to grow and the demand and competition for highly skilled talent rises as a result, organisations need to stay abreast of the scope of talent available in the market.