Google's first commercial for the 2019 Super Bowl showcased Translate, Google's language translation feature. Google's second commercial of the night was also about the power of translation, only this time the focus was on helping veterans translate their military skills into civilian careers.
The aforementioned ad illustrated how Google for Jobs helps veterans and other U.S. service members quickly find civilian jobs by searching "jobs for veterans" on Google and then entering their military occupational specialty codes. They are then provided with search results for civilian jobs with similar skills to those used in their military roles. Now, a group of job seekers that had difficulty finding roles online can easily conduct a simple Google job search.
Launched in 2017, Google for Jobs, or Google Jobs, is a job search platform that goes well beyond simple search efforts by pulling relevant job-related data from multiple partners and company sites into one intelligent search function. In this article, we will walk through an explanation of what Google Jobs is, how it works, how it can affect talent acquisition and what to keep in mind before incorporating Google Jobs into your recruitment strategy.
What is Google for Jobs?
Google Jobs connects interested job seekers with relevant positions from job boards and career websites around the world. Google allows users to filter job searches the same way you can search for anything else online, with criteria like location, posting date, type of company, etc. It even includes pay estimates from several outside sources. With more than one-third of Google's monthly searches coming from job-related requests, Google Jobs helps bridge the gap between job seekers searching for career opportunities and employers looking to provide them.
How Does Google Jobs Work?
Google Jobs pulls job board listings from around the web into its platform through partnerships with LinkedIn, CareerBuilder, Facebook, Monster and others. Postings on a company's career site are also pulled into the Google Jobs engine. Initially launched in the United States, the platform is available to millions of job seekers from North and South America, Latin America, Africa, Europe, Asia and the Middle East.
When a user searches for a job, Google serves up the most relevant job description, location, seniority, job types and salary content available courtesy of machine learning. Machine learning is a subset of AI that adjusts and learns without being explicitly programmed. Traditional Google search queries use algorithms to sort through hundreds of billions of web pages to find and present the most relevant, useful results to a user. Google Jobs' search mechanism operates similarly, only its enhanced use of machine learning only retrieves results from job postings, which it lists at the top of a user's search results.
If you start by searching directly in Google for "jobs near me for 'Nurses,'" using Chicago as a location, roles with a few local healthcare organisations, along with 100+ more jobs, appear. Additional filters also are available, such as jobs posted in the "past 3 days" or "full-time" jobs. Users can view these filters at the top of the screen.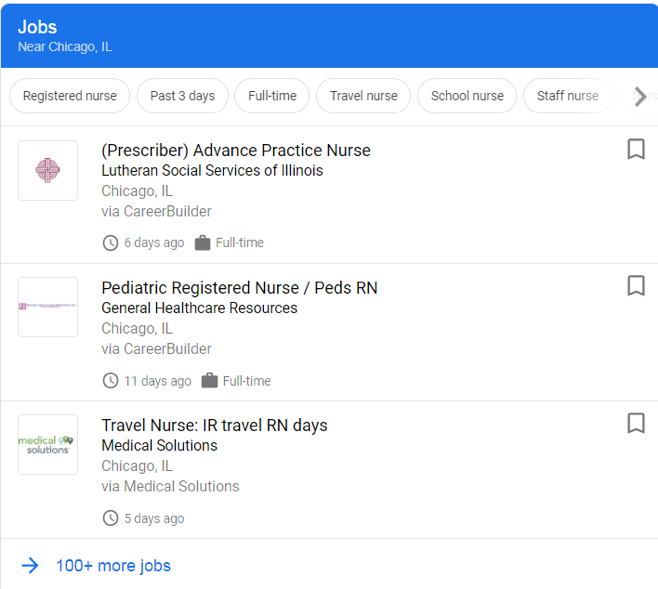 If a user clicks to see additional jobs using the "100+ jobs" link at the bottom of the results page, this next screen appears: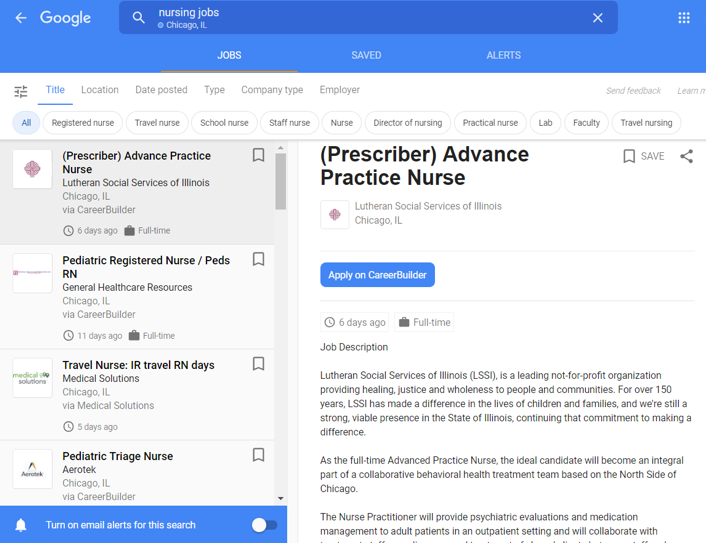 Users can then explore their Google Jobs search using the following features:
Jobs are displayed in the left column.
Filters are available across the top of the screen, such as title, date posted and type of employer. For example, if you click on "title," related titles appear, such as a surgical or clinical nurse.
Pay comparisons are available at the bottom of the listing from other sources such as Glassdoor.
Alerts are available for your job search in the lower left-hand corner. You can turn alerts on or off with your Gmail account and save for future use.
How Does Google Jobs Affect Talent Acquisition?
Extending your recruiting strategy by integrating with Google Jobs benefits talent acquisition programmes through increased reach, better candidate choice and reduced costs.
Expands Your Reach
Google Jobs expands your pool of candidates by crawling millions of job listings across the internet and presenting jobs relevant to a user's inquiry that may not appear during a traditional search.
So, once you've posted your open positions on job boards integrated with the Google Jobs platform – your reach is instantly amplified.
Google also provides developers and website owners access to the new "jobs search feature" where they can embed company logos, job seeker reviews, ratings and job details. This feature functions outside of organic and paid search on Google, so job postings are easier to find and more prominent than before.
And for organisations with smaller recruiting teams, Google Jobs helps level the playing field by allowing their job postings to appear organically to the same candidates as those advertising on job boards.
Filtering Out Unqualified Candidates
When a job gets posted online, recruiters get inundated with a torrent of qualified and unqualified candidates alike. Filtering through these resumes is time-consuming and reduces a recruiter's ability to quickly identify quality job candidates.
With Google Jobs' multiple filters, it is possible for recruiters to better target candidates and only receive the resumes that best align with specific roles.
For example, instead of receiving generic resumes for nurses, now it is possible to filter results so that recruiters only receive resumes from entry-level nurses with two-years of experience in a hospital setting who live in Atlanta and expect to be paid $35K-$70K annually.
Reduces Cost
Increasingly, the need to go to CareerBuilder, Glassdoor, LinkedIn and others to post your job listing is waning as Google Jobs principally provides the same service in a more cost-effective manner. The average cost of interviewing, scheduling, and hiring a candidate is thousands of dollars; this cost could be reduced if recruiters work with fewer third-party job boards and advertising partners.
Considerations
Before your job postings begin appearing in millions of Google searches, here are a few tips to get started.
Optimise Your Job Listings
Keep your descriptions short and specific. Avoid any internal jargon that candidates would not search for or know. Study other ads in the market to make sure your job description has some similarity. Also, check to make sure your listing is consistent with your employer brand.
Enhance SEO
Google Jobs is a powerful tool. However, to harness its full potential, you should make sure your job postings are optimised for search. This means making sure you are tagging the correct keywords, titles and other attributes.
Mobile Ready
Make sure your listings are updated for mobile search, where 90% of job seekers now search first. You can use the quick test Google offers to check to see if your website is currently mobile-optimised as well.
What to Keep in Mind?
Connect Your Job Listings
There are a few main paths to connect your listings with Google Jobs. If you post jobs directly through your website, you can connect directly with Google. However, this option requires some technical knowledge such as marking up jobs, crawling, indexing, enriched search, APIs and structured data. This direct connection path can also come through your applicant tracking system (ATS) provider. Another option is to work through a third-party to manage your postings, e.g. LinkedIn.
Remove Old Listings
Google may penalise your site if job postings that have been filled are still being displayed, so make sure you regularly remove old listings.
Understand Not Everyone is Involved (Yet)
Certain jobs may not be included in Google Jobs search results, as some job boards are not integrated into the platform. As of April 2019, job search giant Indeed has not yet partnered with Google Jobs, so any efforts talent acquisition groups have with Indeed remain separate for now.
Conclusion
Working with Google Jobs benefits talent acquisition programmes through increased reach, better candidate filtering and reduced costs. Before integrating Google Jobs into your TA strategy, organisations need to optimise their job postings. Companies need to understand the pros and cons of managing a Google Jobs programme in-house versus working through an ATS provider or third-party integrator. Most ATS providers are optimised for Google Jobs, but make sure to confirm with your vendor. Talent acquisition leaders can also consider using the ATS module within PeopleScout's proprietary talent technology platform, Affinix. Google Jobs is available today through Affinix.