The shift toward global expansion is top of mind in many of today's organisations, and for good reason: going global brings opportunities that may otherwise go untapped – such as new revenue sources, cultural diversification, economies of scale and greater access to talent. So, as your talent programme grows, you may be considering expanding beyond your current borders.
Similar to traveling internationally, there are many steps to taking your business' talent acquisition programme global. As you plan for a trip abroad, you may make a packing checklist, get your passport and prepare accommodations. There's anticipation as you near your trip date, and even some nerves as you take flight. You don't quite know what to expect, but you're excited about the possibilities of what you'll discover. After an invigorating visit, you recount your trip and replay all you've experienced – good and bad. Global talent acquisition deployments are similar, and in this article, we'll outline factors to consider throughout the different stages of implementation.
Choosing Your Global Talent Acquisition Deployment Type
The first item on any traveler's checklist is determining where to go. When it comes to global implementations, get a good handle on the location or locations you'll be expanding into before taking off. After considering talent supply, cultural nuances and how easy (or difficult!) it is to do business in a certain location, selecting a deployment type should be straightforward.
There are two main types of global talent acquisition deployments:
"Big Bang" Approach: If you opt for this method, you'll be launching all operations at one time on a singular date. This might be the choice for you if the main goal is compliance with global policies and procedures that align with a specific set of dates and standards.
Phased Approach: This type of deployment type favors a slower rollout of operations over time – which might be helpful for first-generation managed service provider (MSP), recruitment process outsourcing (RPO) or total workforce solutions programmes that you want your organisation to ease into.
Factors to Consider
After choosing a travel destination, you'll start looking into the details of the location you're visiting. What's the weather like? What language do people speak? Where are the best food spots in town? In essence, seemingly small aspects tend to have large effects on the success of your trip. Likewise, once you've taken all of the initial expansion considerations into account, you're better equipped to further assess pivotal factors that will greatly influence the success of the overall deployment, including the following significant global and local influencers.
Key Stakeholder Identification & Support Capacity
It's crucial to align organisational expansion plans with regional cultural norms and any specific local nuances. For example, when initially organising the details, are there any types of communication styles that are considered rude or offensive? This is crucial to ascertain for positive programme adoption from the start. Also, be sure to frame that local focus to stakeholders, as opposed to communicating a message that essentially states that a new programme will be laid over local operations. Stress the fact that you'll be interweaving existing operations with new features and benefits to ensure maximum success for the programme and all involved.
Additionally, focus on ensuring that all voices are heard – from local teams to individual hiring managers – to avoid any passive resistance; you'll want to fully understand how people work in that particular location and what day-to-day norms mean to ensure the success of the programme. Try putting yourself in the shoes of the end-user; a seemingly simple concept like shadowing can go a long way in showing the local constituency that you're invested in the success of the programme at their specific location.
Availability of Talent
We're currently seeing low unemployment rates paired with skills shortages across the globe– a trend we haven't seen consistently in the past. Because of this, consider shifting your focus to soft skills when it comes to assessing the talent landscape in a given region. This means concentrating on skills like critical thinking, problem solving and adaptability to new environments. No matter whether you're introducing a new industry to the area, carefully decipher what the competition for talent looks like. From there, you can start developing a well-thought-out sourcing plan to align the resources necessary for a successful deployment.
Change Management and Global Talent Acquisition

When done right, change management can have the greatest effect on deployment success. A critical component of managing change in global talent acquisition implementations is gaining buy-in from key, local stakeholders. Then, you can depend on these stakeholders to translate (literally and figuratively), the feedback needed to take into consideration.
Another vital part of managing change is ensuring the right amount of frequency to ensure consistent alignment. Rather than one initial message followed by months of silence leading up to the "go-live" communication, consider a layering approach. Keep communications frequent, consistent and to the point to get people excited about what's coming and interested in what the changes mean for them.
And, as important as it is to keep communication consistent as you prepare for launch, it's just as critical post-launch. Reinforce the benefits people should be seeing, ensuring everyone is comfortable with the changes and collecting feedback around any training or functionality that may need revisiting. A high level of communication and comfort translates into successful programme adoption.
For more on change management, check out our Talking Talent Podcast.
Technology Readiness
When it comes to talent technology, several different factors need to be considered. For an MSP programme, the main component is the vendor management system (VMS). Along the same lines, with an RPO program, you'll be focused on the applicant tracking system (ATS) and any other systems that may need to be integrated for either or both. Similar systems may be utilised across an organisation with varying local versions, so it's important to understand what consistencies exist, as well as gaps that need to be addressed.
Ensure the pros and cons are carefully weighed across the systems the technology will interface with, then try to choose one as a "source of truth" for compliance, data validation, and data integrity. In doing so, you'll see consistency across the talent technology, giving you a true, holistic view of the workforce when it comes to analytics and reporting.
Finance & Tax
What's important here – and heavily dependent upon the workforce population at hand – is ensuring that there are clear visibility and guidance around cross-border implications, such as supplier and provider payments, global and statutory requirements, or arrangements in which a hiring manager sits in a different location than the resource. This becomes especially important when there is an integration with an invoicing system and effects on back-office operations.
The Stages of a Global Talent Acquisition Launch
After months of preparation, you're finally leaving for your much-anticipated trip. You just have to check in to your flight, print your boarding pass and you're on your way! After a two-week experience you'll never forget, you return home to tell your friends and family every detail of your getaway (even down to the hotel mishap on night three). Your global deployment will go through similar stages, as outlined below.
Pre-launch
At the pre-launch stage, all stakeholders should have a good working knowledge of what's coming and when, and you should have a good sense of how everyone is feeling. Are people comfortable with what's coming? Are they ready for it? What needs to be adjusted now based on the feedback collected?
Ensure that all technology components are operating as planned, and that enough time has been dedicated to testing different scenarios that will be realised upon launch. The quickest way to do this is by running through predetermined scripts and observing how the technology responds. If time allows, some organisations also subscribe to a "break the system" approach by trying out every possible or one-off scenario – including erroneous field data – to assess the outcome. While this takes more time, it also tends to be the most thorough, especially if multiple technologies are at play.
Successful Launch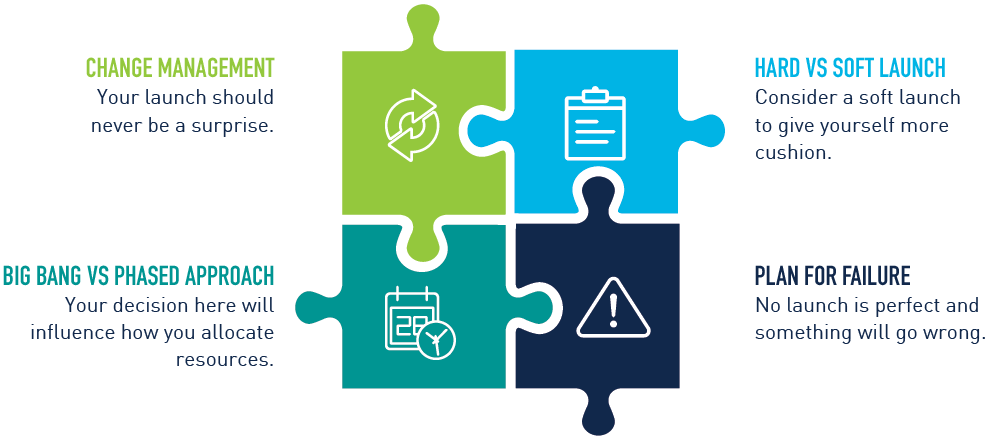 When it comes to executing a successful launch, the biggest components are represented above. As you progress in the implementation, it's wise to consistently refine change management, calibrate resource alignment and pivot as needed, so as not to lose momentum as progress is made. Remember to share successes along the way, and not to lose sight of the overall goals of the programme.
Furthermore, whether you're evolving your programme or expanding into additional locations, consider the overall maturity of the labor market and generation of the programme you're launching. For instance, if this is a second-generation programme, what do you need to consider from the first launch and potentially change? It's also important to communicate the fact that unexpected issues may arise and, if they do, it's critical to address these obstacles transparently.
Post Launch
Once the programme expansion has launched, consider the following recommendations:
Dedicate time to complete a thorough audit: Assess how well the goals were met, taking into account that they may have changed over time.
Schedule a "lessons learned" meeting: Identify and capitalise on best practices acquired throughout the launch.
Check in at all levels of the operation: Work to understand what is and isn't working.
As data starts coming in regularly, analyse for trends that may not have been visible before to determine any adjustments that need to be made related to resources, processes or technology.
After any trip, you spend some time at home reliving the experience and getting reassimilated with your day-to-day life. You think about what you did and didn't like, go over what you learned, and naturally, decide whether you want to take another trip. Maybe the destination was so great that you want to go back, or perhaps you're ready for something new. Global talent acquisition implementations are similar, and whether you've met your needs with one deployment or are planning for further expansion, the right talent partner can help take you there.
Finding the Right Partner
Choosing a partner to help you through your global talent acquisition deployment is like choosing an airline. Are they reputable? Dependable? Can they get you where you need to be? Most important, can you trust them with your bags? When you're looking into viable partners to work with for your implementation, ask yourself:
Do they align with our business needs?
Will they deliver value across every level of the organisation?
Are they flexible?
Do they have any proven standards?
Do they have the ability and experience to tailor operations as needed?
Don't be shy about asking your potential talent partner to prove their value. Request case studies and demonstrated expertise that illustrates that they have the experience you're looking for. Finding a partner that is a good fit for your organisation is a huge undertaking and you want to make sure you get it right. You'll likely be working with them for a long period of time, and the success of your implementation will depend on the strength of your relationship and the trust you have in your partner.