Expanding your talent pool amid turbulent times can be difficult. As businesses navigate reopening and hiring amid the surge of the Delta variant of COVID-19, many are struggling to fill their open roles with the talent they need. Combined with the shortage of overseas workers due to Brexit, research from accountancy and advisory firm BDO shows that UK businesses are experiencing disruption to productivity.
Notably, an HGV driver shortage resulted in nationwide fuel shortage. Plus, companies in the healthcare, retail and hospitality sectors are suffering from staff absences, with workers isolating due to COVID-19 infections.
At the same time, millions of workers are also planning to change careers: Data released by Aviva showed that 87% of workers surveyed said they were re-evaluating their careers, whilst nearly one in 10 said they intended to start a new career.
In this article, we'll explain why people are choosing to change careers, share common skills you should look out for in your talent pool expansion, and provide suggestions for how to create a reskilling programme that will work for your organisation.
How the Talent Pool is Evolving: Why Are Workers Changing Careers?
As a result of the pandemic and the tragic losses that came with it, people were faced with a reminder that every day is not guaranteed. This realisation caused many to rethink their life choices and shift to prioritise their health, loved ones, hobbies and the things they truly enjoy. For many, this included rethinking their career path and goals—including exploring job opportunities that align with their passions.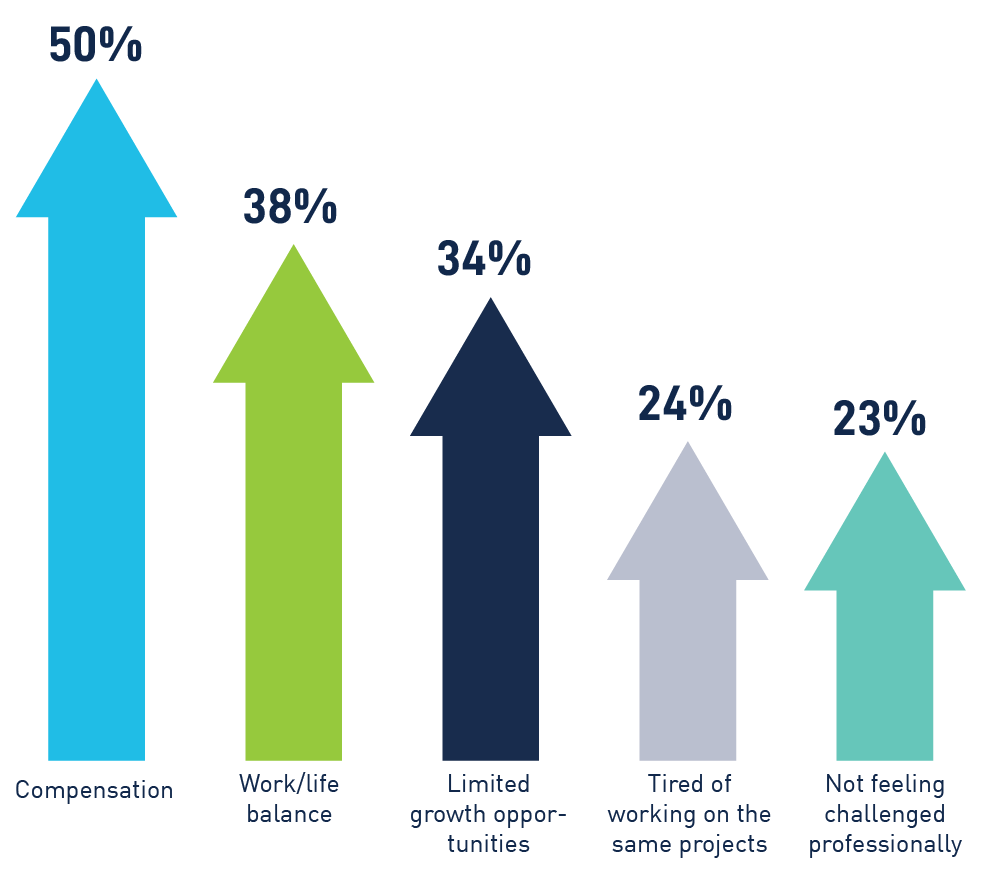 As an employer, you can capitalise on this migration by offering competitive employment packages complete with work/life balance and promoting those benefits via recruitment marketing techniques. More precisely, beyond compensation and flexible work arrangements, show candidates how you will challenge them and help them grow in their career.
Building a Talent Pool: Identifying Transferable Skills in Workers Changing Careers
When searching for talent, you might not consider looking in certain industries or job types because you're unsure whether the skills developed in those roles will match up with what you need for your business. However, 57% of UK workers are willing to retrain, with mid-career workers (aged 31-40) showing the most willingness at 64%.
Fortunately, you don't need to start from scratch when hiring people who have chosen to change career paths. Instead, focus on attracting candidates who have strong transferable skills across industries.
Transferable skills, also known as "portable skills," are those that can carry from one job to another. Transferable skills can be used to position your past experience when applying for a new job—especially if it's in a different industry. (Source: Indeed)
Because many transferable skills are soft skills, candidates from other industries are often highly collaborative and integrate well into new roles. In particular, they're well-rounded and more productive from the beginning. As a result, your training time can be focused on knowledge specific to your organisation and the role.
Consider looking for these common transferable skills when expanding your talent pool beyond your industry:
Problem-Solving
Workers who can demonstrate strong problem-solving skills in their previous roles will likely be able to apply that same mentality on the job at your organisation. Specifically, employees with problem-solving skills will be able to identify issues, find out what is causing them and seek out potential solutions—without you having to nudge them.
Teamwork
If the role you're hiring for requires a lot of collaboration between team members, look for candidates who have experience working toward a common goal with others. Teamwork also encompasses several other skills, such as empathy, active listening and communication.
Communication
Communication is perhaps the most common transferable skill across all industries and job types, because it's required in almost every role. Workers with effective communication skills are able to clearly share ideas and information both verbally and in writing; know when to ask questions; read body language; and communicate with others in a wide range of settings.
Leadership
Whilst leadership skills are especially vital for management positions and above, they're important for people to possess at all levels of the organisation. That's because leadership skills contribute to an employee's ability to rise to a challenge, get a team on the same page, delegate when needed and see a project through to completion.
Adaptability
Workers who are adaptable and flexible are able to adjust as deadlines, teams or processes change. They can pivot and learn new skills when needed, whilst also maintaining a positive attitude and ensuring goals are still met.
Technology Literacy
If you don't want to teach your next hire the basics, look for candidates who have experience working with common business tools and technologies that will easily integrate into your business function. Similarly, if your organisation is embracing more digital tools, it's also important that your candidate is comfortable learning new technology and software to improve efficiency and evolve with your organisation.
Whilst the list above highlights some key transferable skills, there are numerous others that might fit into your organisation and the roles you're looking to fill. Check out this list from FlexJobs for more.
Building a Reskilling Programme for Workers Changing Careers
Attracting and hiring candidates with transferable skills allows you to skip basic training on soft skills. However, because many of these hires will be coming from different industries, you'll likely still need to provide an onboarding programme for the first 90 days that includes some reskilling training for non-transferable skills to help them adjust to the new role.
Plus, employees expect training to come from employers. According to McKinsey, skills training is the number-one choice of prospective employees when choosing what makes a great employer. Plus, 94% of employees said they would stay longer with a company that invested in their skills development.
But, what type of training will work for your organisation? Well, that depends on what types of roles you're looking to fill. According to a report by CompTIA, candidates have different preferences regarding training methods based on the type of job they're seeking.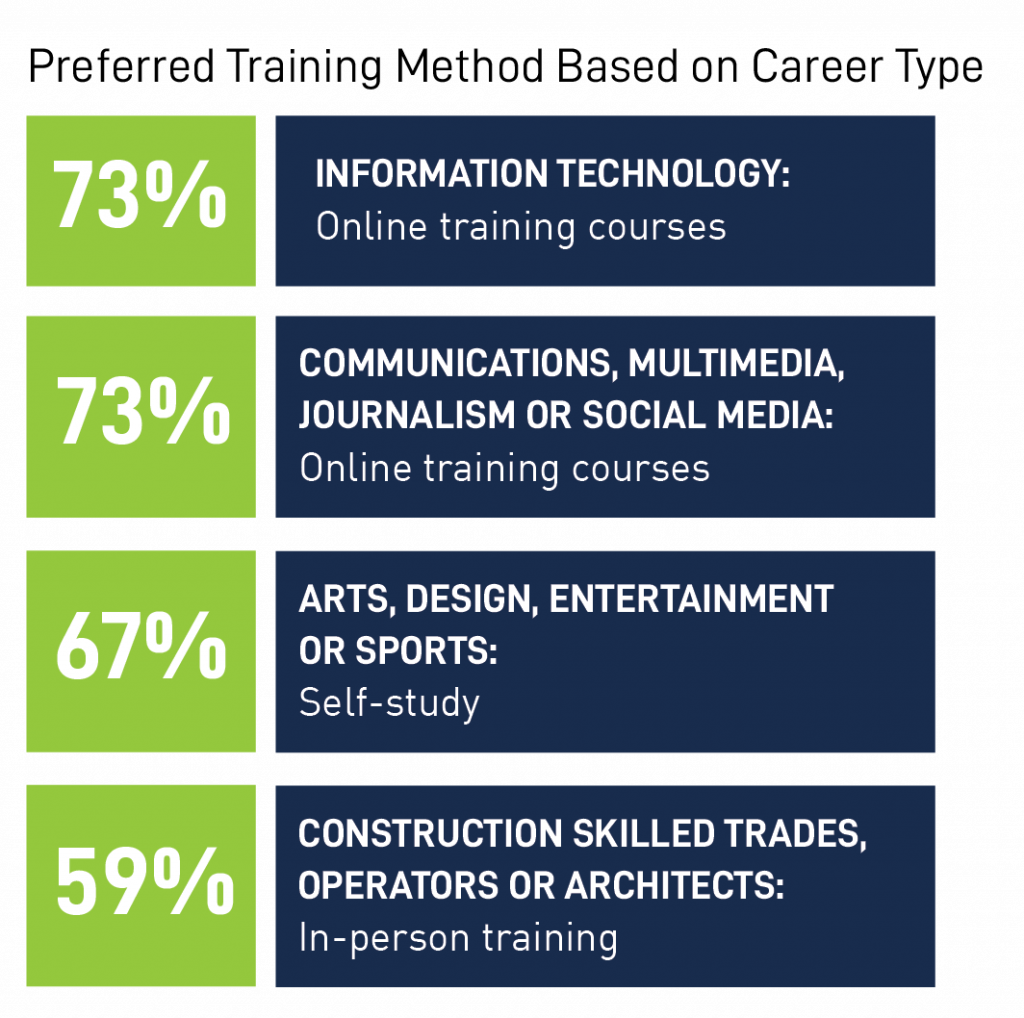 Consider these three steps to help you build an effective reskilling programme:
1. Identify Skills Gaps
When hiring candidates from different industries, there's no doubt that they'll require some additional training to be able to be successful in the new role. So, identify what those key skills are so you can build your training around them lets you focus on skills unique to the job and your organisation.
2. Develop Specific Skills Trainings
Once you've identified the key areas that will need to be covered, develop trainings specific to those needs. These trainings should encompass a variety of reskilling methods to fit the individual needs of your new hires, including:
a. On-the-job training: Employees can take on small projects and learn from real-world experience.
b. Online learning: Virtual courses can be taken at any time and are a great way to speed up the learning process. They provide a lot of content in a digestible form that anyone can complete at their own pace.
c. Blended learning: Combine online courses with in-person training to maximise the benefits of both. Employees can engage with instructors in person and come equipped with knowledge and questions from online training.
d. Peer learning: Employees can learn from one another through collaboration and job shadowing. By observing what someone's day looks like, employees get a good sense of what will be expected of them day-to-day.
3. Measure Success
Leverage surveys, discussions, post-training assessments and candid feedback from trainees regarding the value they found from the reskilling trainings. Do they feel like they've learned something new? Do they have the knowledge to put new skills to use? Are they implementing what they've learned on the job? Once you find out, reevaluate and improve your training programme regularly based on the strengths and weaknesses that employees identify.
Marketing Your Reskilling Programme to Your Expanded Talent Pool
Now that you've assessed the transferable skills to watch for and developed a reskilling programme for workers who are changing careers, it's important to make that programme known to potential candidates. Utilise recruitment marketing techniques on social media to promote your roles and share that your organisation is offering reskilling to employees from a variety of industries. In job ads, highlight the fact that hires will be provided with reskilling training to ensure they're successful in their new role. This—in conjunction with a strong employment offer and benefits—will help your business stand out above others in the competitive search for top talent.