Talent shortages and the effects of The Great Resignation are now well-established narratives in the recruitment space. Yet, organisations are still putting up barriers between great opportunities and great talent. New research shows that candidate abandonment rates are over 65% due to a poor candidate experience. Candidates are dropping out of every stage of the recruitment process, not just the application process.
Often this results in "ghosting"—when the candidate drops off with no communication to the recruiter or hiring manager—with 28% of job seekers admitting they've done it. But, it's a two way street—77% of candidates say that employers have done the ghosting.
Other barriers to candidate engagement that are contributing to abandonment include:
Overly complex or repetitive applications
Screenings, tests, or assessments take too long or require unreasonable amounts of time and effort to complete
Recruiters or hiring managers schedule interviews but never show up (ghosting), or reschedule several times, or are disruptive during the interviews themselves
Job offers take weeks or months to materialise
Lengthy and arduous onboarding practices (which get worse in heavily regulated industries)
Tips to Reduce Candidate Abandonment
Evaluating your candidate experience, particularly the number of steps and how much time each takes to complete, is imperative. Recruiters should work with hiring managers to prepare them for final stage interviews to ensure that experience is positive for candidates.
Think about any steps that can be eliminated. In times past, we've advocated strongly for assessments and even design them through our award-winning Assessment Services team through our Talent Advisory offerings. But, sometimes eliminating or scaling back assessment steps can actually help deliver more qualified candidates at scale and speed. We've seen this work particularly well in recent entry-level hiring projects, like customer service roles.
RPO Delivers an Excellent Candidate Experience
Advocating for changes like this can cause some discomfort – but it can also get results. This is an area in which an RPO partner can make a big difference. We can bring the agility and insight needed to problem solve in this candidate-led market.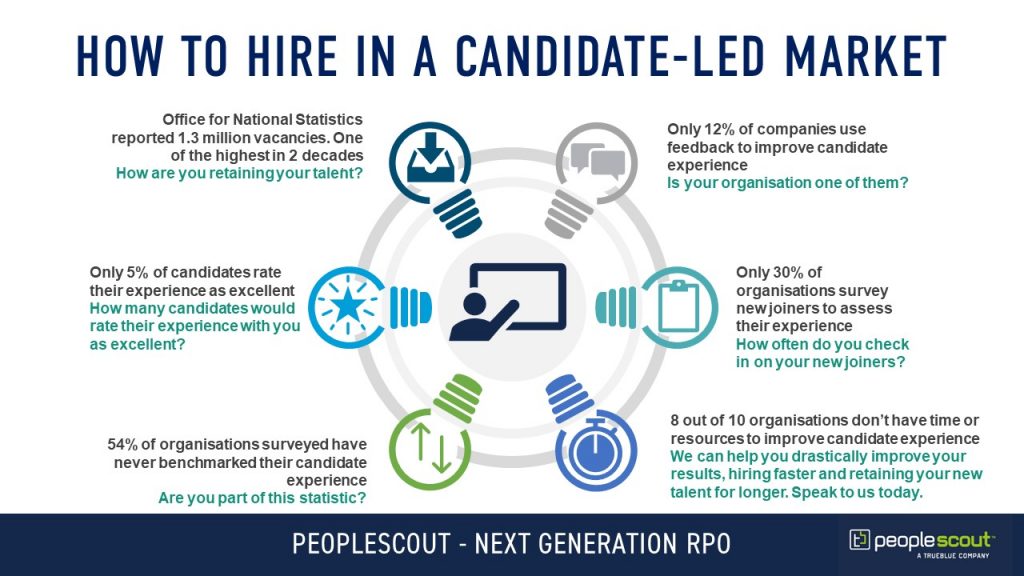 Any organisation recruiting right now must meet candidates where they are. The best solution is the one that engages and retains qualified candidates at every stage of the process. Shorter applications, streamlined assessments, commitment to best practice interviewing, clear guidance and additional support in onboarding should all be a priority for your business. Focus on candidate experience through a combination of responsive teams and tech and strengthen the employer brand wherever possible. That's what gets talent to stick with, not abandon, your recruitment process.