26
One Employer Brand Nuanced to Resonate Across 26 Countries
5
Five In-Market Brand Launch Events Plus One Global Webinar
300,000
+
Over 300k Impression on Social Media During Week of Brand Launch
Situation
Diageo has a portfolio of some of the world's most renowned drinks brands including Guinness, Baileys and Captain Morgan. Even though its drink brands are long established, the Diageo brand itself is less recognisable, particularly in the employment space.
Our challenge was to develop an employer brand that cut through this lack of awareness and inspired people in a wide variety of commercial disciplines all across the world to see themselves at Diageo. The new brand needed to reflect their employer value proposition (EVP) to drive Diageo's reputation as an employer of choice for world class talent globally and complement the existing corporate brand positioning.
Solution
Our mission was to create and launch a new and compelling employer brand for an employer that was being outshined by its own iconic products.
Delving into the Challenges
We dove into insights gathered from a variety of internal stakeholders—from experienced Diageo colleague to recent hires—across North America, Latin America, Europe, Africa, India and other parts of APAC. These employees were from several departments like e-commerce, supply chain, marketing, finance, HR, IT and customer management.
We realised that the wide variety of geographies that Diageo covers creates complex challenges for the business, from the differing strengths in consumer brands between markets to talent attraction techniques and cultural nuances relating to alcohol. So, we knew that the new employer brand had to be flexible enough to resonate in different countries and feature local employees as champions to bring it to life.
From an external perspective, a survey revealed that 58% of our target audience had not heard of Diageo. Yet, 78% said they would be interested in working there after we connected the Diageo name to their famous brands. So, we needed to find a way to link the Diageo name to their recognisable products.
A Unique EVP – Character is Everything
We anchored the new employer brand in the history of the organisation: character. People of extraordinary character—like Arthur Guinness, Johnnie Walker and Charles Tanqueray—had built the business from the ground up centuries before. And their spirit lives on, driving every aspect of Diageo in the 21st Century.
The EVP we introduced—Character is Everything—was grounded in the history of their individual products as well as influenced by the characters we met at Diageo. We wanted the brand to be a celebration of their personalities, joy and enthusiasm for Diageo's famous brands.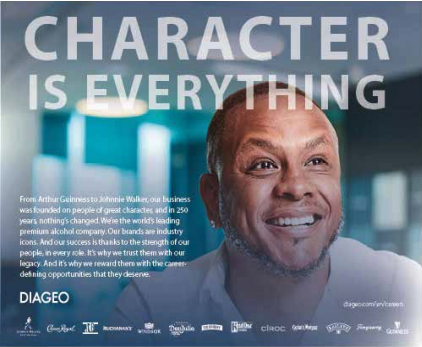 We took Diageo through a comprehensive journey, developing pillars, narratives and collateral that fit into their overall corporate brand.
Tailoring the Employer Brand for Global Talent
We created six brand pillars, ensuring the message was compelling and authentic for audiences divided by geography or job area and then tested the proposition globally to gain buy-in business-wide.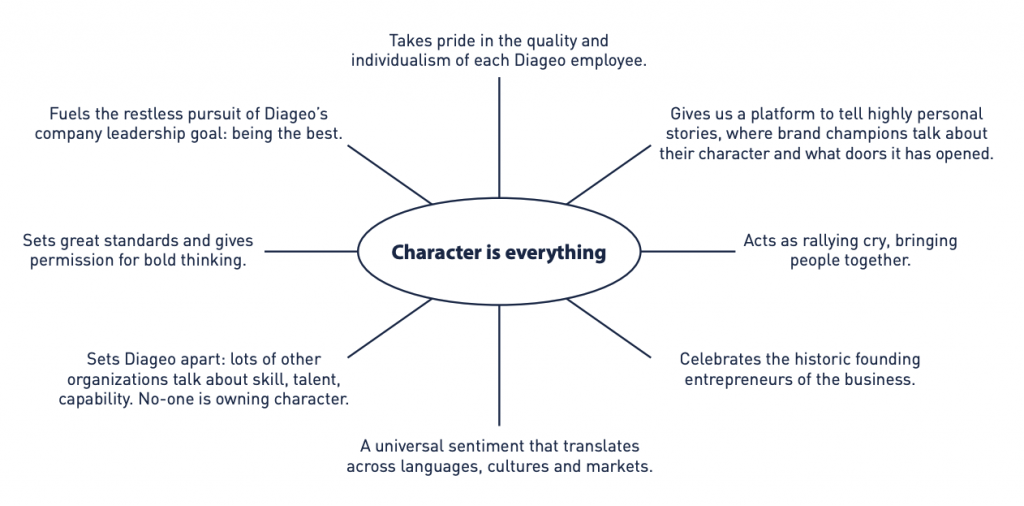 In our narratives and designs, we made Diageo employees the brand heroes, telling local and global stories, and showcasing their characters to bring the Diageo story to life on every channel. The brand imagery was genuine and full of depth—from the smiling faces of real employees to the bold headlines.
We fine-tuned and then launched different iterations of the brand for different geographies. For example, in various African countries, recruiters told us that candidates responded well to messages around supporting the community. We also translated our communications into a range of languages.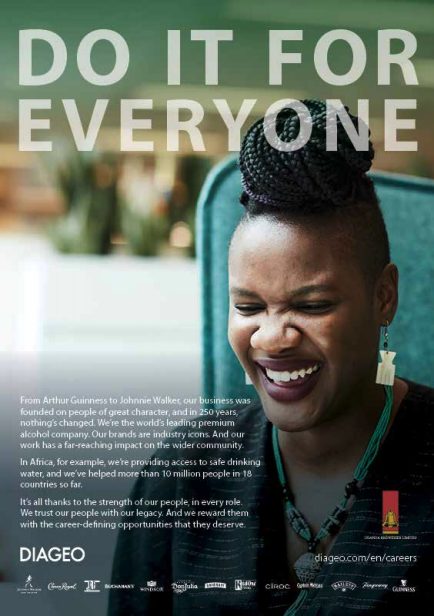 The brand was designed to provide enough content and materials for immature markets to roll out independently, while still leaving enough scope and space for innovation in advanced markets.
Setting Diageo Up for Success
Our Talent Advisory team supported the brand launch across the globe, promoting and publicising the new brand. We helped the Talent Engagement Teams to understand the proposition, what tools are available to them and how to use the brand effectively to hire great talent. We also supported internal launch events in which we engaged employees in activities to explain what it means to work for Diageo and the kinds of traits and behaviours they should look for in new hires.
Results
The new EVP and employer brand creative was well received across Diageo.
Launch Events
We hosted five in-market events plus a webinar which had over 500 webinar registrants, over 200 live participants and 30 on-demand views of the recording. These events inspired huge amounts of user-generated content on LinkedIn from employees.
Social Media
Diageo executed a series of posts across their social media channels under a unique branded hashtag, #characteriseverything, generating a huge amount of activity and traffic during the first week.
329,472 overall impressions
6,257 clicks plus 2,936 click-throughs to the Diageo career site
2,986 likes
179 shares
72 comments
3.19% overall engagement rate (well above industry average)
Global Reach
Activations of the brand have now reached 26 markets. So far, we've worked on:
A film to support recruitment in Budapest
Brand activation project for hiring in Korea
Communications for Diageo's global ATS platform
A revamped toolkit for employee reward
Recruitment event collateral for Venezuela
A recruitment marketing campaign for early careers within the supply chain division
An internal communication project for the Diageo's migration to Workday
We've gained evidence across a number of campaigns that the new employer brand is altering perceptions and boosting awareness of Diageo. There has been a great response internally too. Not only were we over-subscribed for brand champion volunteers, focus group feedback is showing an upswing in pride around the Character is Everything message.
AT A GLANCE
COMPANY: Diageo
INDUSTRY: Legal Services
PEOPLESCOUT SOLUTIONS: Talent Advisory
LOCATIONS: The refreshed Diageo employer brand was flexed to resonate in 26 different countries including Budapest, Korea and Venezuela.
ABOUT DIAGEO: Diageo is one of the world's largest producers of spirits and beers including iconic brands like Guinness, Smirnoff and Johnnie Walker. With over 27,00 employees, their 200+ brands are sold in 180 countries.